Fire Fenders From Antique Fireplace Restoration
Fire Fenders: An Important Element Of Fireplace Design
Fire fenders are functional, but they can also be highly decorative pieces that will raise your fireplace from attractive to stunning. There's nothing quite like a beautifully designed, authentic fender for creating a hearth with that "wow" factor. Originally intended as a barrier to contain coal and ash so that it didn't spread into the room, fenders had the potential to become works of art in themselves.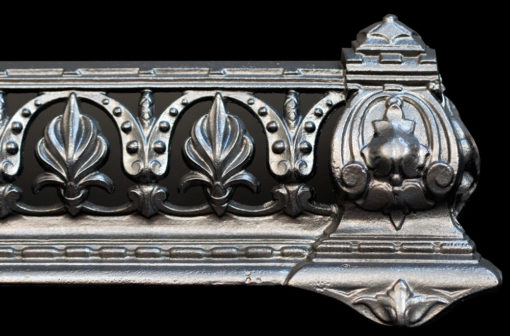 From Rococo to Regency
Fenders in ornate Rococo style remained popular from the 18th century onward in both France and Britain. In contrast, many Georgian period fire fenders display the elegant neoclassical style that is typical of the era, with restrained and effective use of Greek and Egyptian motifs.
The Rich Heritage of the Arts and Crafts Movement
Skilled and imaginative 19th century artisans took up the creative challenge to great effect. Fire fenders created in Arts and Crafts style, for instance, display confidence in interpreting several contemporary themes. Highly ornate engraved brass finials set on twisted poles make a powerful, almost altar-like statement, while plainer fenders might be decorated in the flowing lines of Celtic art. Pierced brass or steel fenders have a lace-like finish that casts complex shadows across the room as the fire flickers on the hearth.
Stylised Forms Herald the Arrival of Art Nouveau
Gothic forms in both iron and brass were popular and this style adapted itself particularly well to the club fender seats that were favoured in the late 19th century. The arrival of Art Nouveau themes are also clear to see in some of our fender examples, with flowers and animals, particularly birds, appearing in stylised form. This flowing, yet clean and organic, style remained popular throughout the late Victorian and Edwardian eras and is still admired today.
A Unique Statement for Your Fireplace
Putting the right fender in place can be an excellent way to complete your fireplace. It delineates the hearth, draws the eye to the space and complements the rest of the architectural elements. With so many original pieces in diverse styles available, there's plenty of choice for all tastes. At the Antique Fireplace Restoration Company, we pride ourselves on finding one that will be just right for your room and your home. Whether your preference is for a substantial fender with geometric decoration, or an elegant fender with a flowing foliage design, we can offer you both good advice and great choice.