Victorian Fireplaces
How our restored Victorian fireplaces will add style to your home:
If you are looking to buy Victoria fireplaces, visit us at The Antique Fireplace Restoration Company. Based on Stockport Road, Levenshulme in Manchester, you can buy  fireplaces to suit your needs. The high point of the Industrial Revolution was the Victorian era. Back then, our illustrious neighbour four miles up Stockport Road saw a rapid rise in population and industrialisation. This also meant a rise in housing developments as the populace moved to towns and cities for work. In the newly built terraced houses, Victorian fireplaces took pride of place in their living room.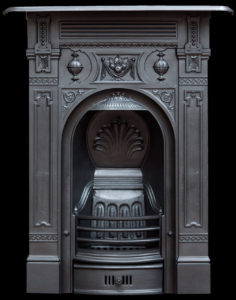 Once again, Victorian fireplaces can take pride of place in your home. Especially ones that have been restored by us at The Antique Fireplace Restoration Company. We offer a wide range of Victorian fireplaces that have been rescued from reclamation yards and lovingly restored to 'as new' condition.
We not only offer imposing fireplaces for the lounge; bedroom fireplaces and cast iron ranges are also available. Many of our Victorian fireplaces are of the cast iron variety, popular in many dwellings of that era. One thing you will also notice is the painstaking detail in the ironwork, seen on many fireplaces and surrounds.
We also look at the finer details: the fenders, the tiled inserts, and the fire surrounds. Also the fire guards. Everything to make your room complete. If you live in a modest Victorian terraced house, or one of the Victorian villas (such as those in South Manchester), our fireplaces are a perfect addition to your home. Whether as a decorative piece or a fully functional fireplace, our restored fireplaces make a good focal point in your home.
If you have any queries about our Victorian fireplaces and similar lines, why not talk to us on 0161 225 8967? Or you could send us an email via info@tafrc.co.uk. You can also arrange an appointment with us from 10am to 5pm on weekdays. Or call into our showroom on Saturdays (10am – 5pm) or Sundays (11am – 4pm).